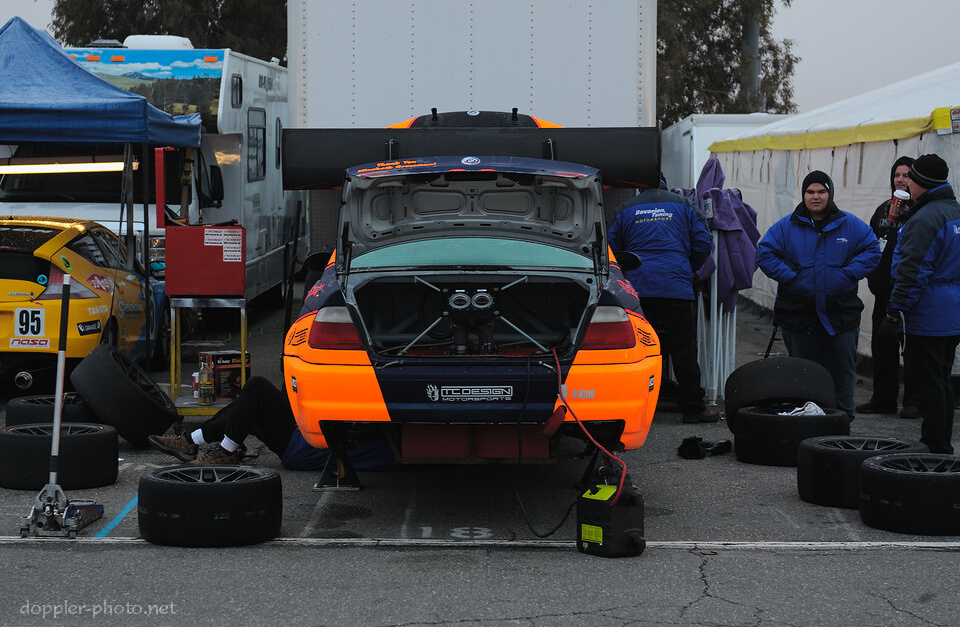 At the start of every endurance race is a hope for the finish.  You design, you build, you plan, you prepare.  You make contingencies, and backup plans for the contingencies.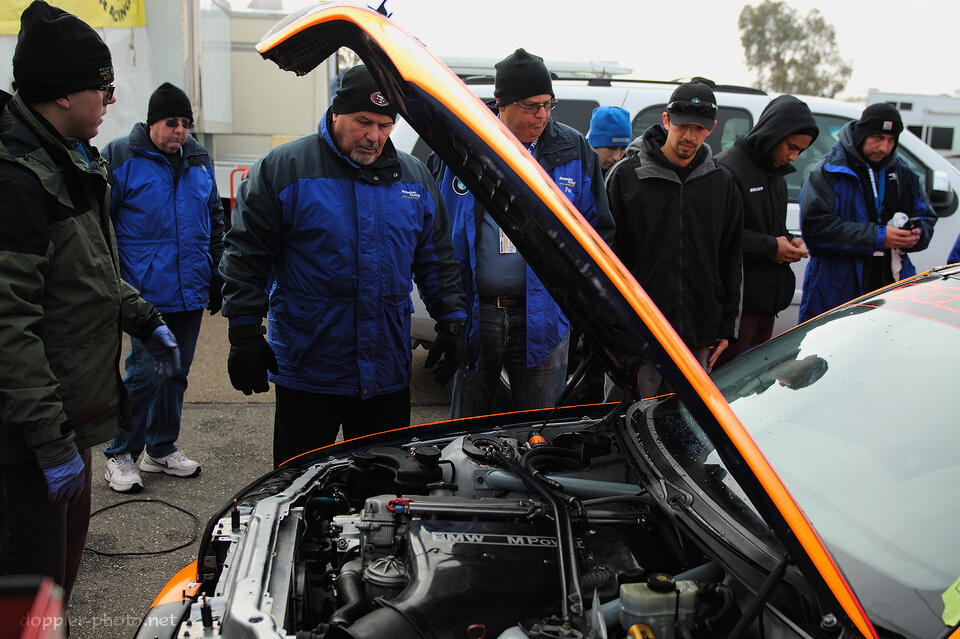 As the start draws closer, you double-check everything you can, cross your fingers for the things you can't control, and you get ready to rock and roll.

In the photo, members of the #33 Tiger Racing / Bavarian Tuning Motorsport team stand by as the engine fires and starts warming up Saturday morning, about two hours before the race start.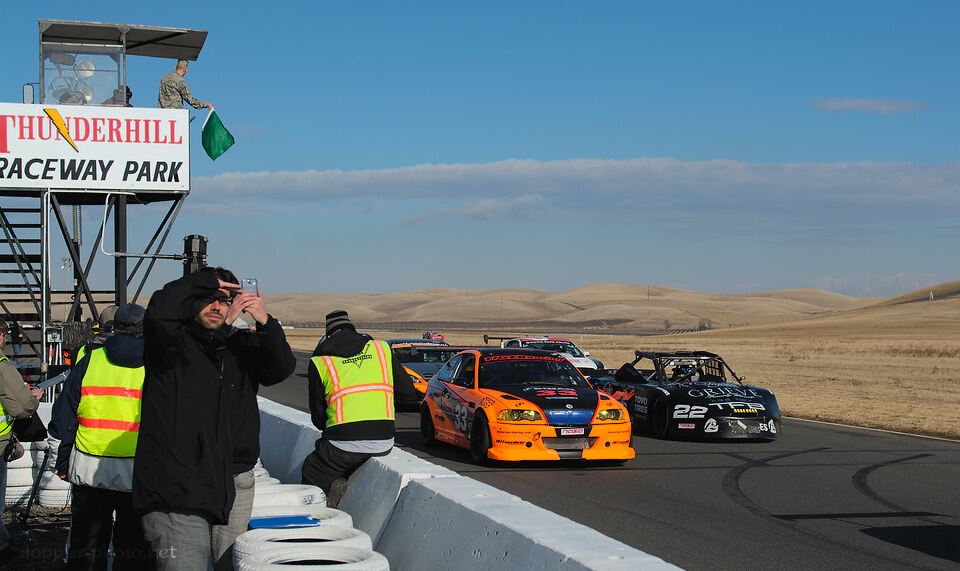 As the #33 car took the green flag, the race was already going poorly.  The car was significantly off the class pace, a fact which the team must already have known after posting mediocre qualifying results the day prior.  They qualified in 13th position in their class of 16 cars, running 4 seconds off the median pace (and 3 seconds off their 2012 pace).  Their fastest actual race lap was another two seconds slower.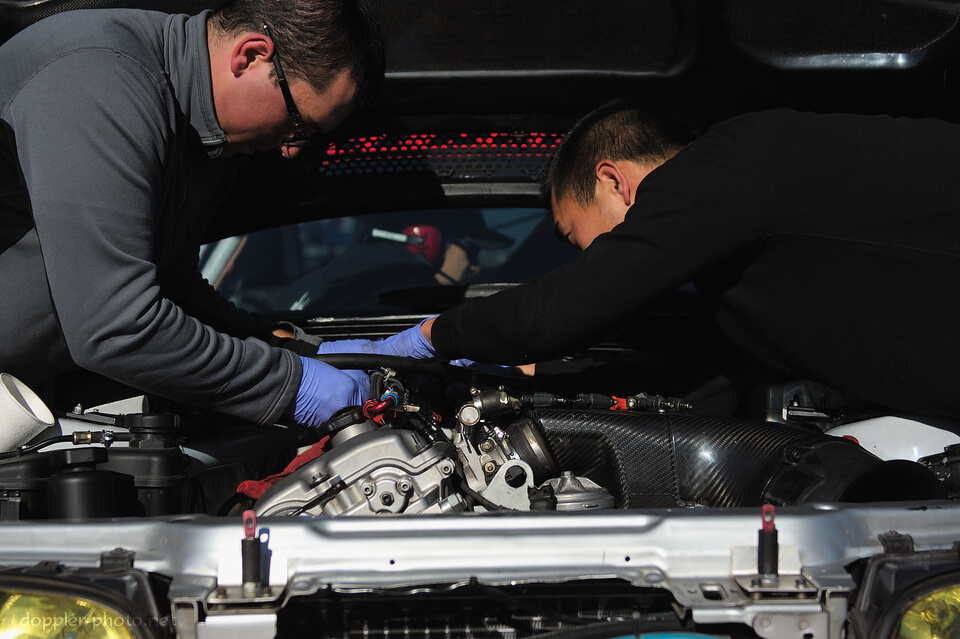 As the race progressed, the #33 spent increasing amounts of time in the pits.  Here, two race mechanics clean the row of fuel injectors on the M3's inline-6 engine during a long stop in the hot pits.  Inside the cockpit, a crew member speaks with the driver, team principal Bill Maher.

After heading back out on track for a lap or two, the car came back in again, the hood opened again, and focus again returned to the top of the engine.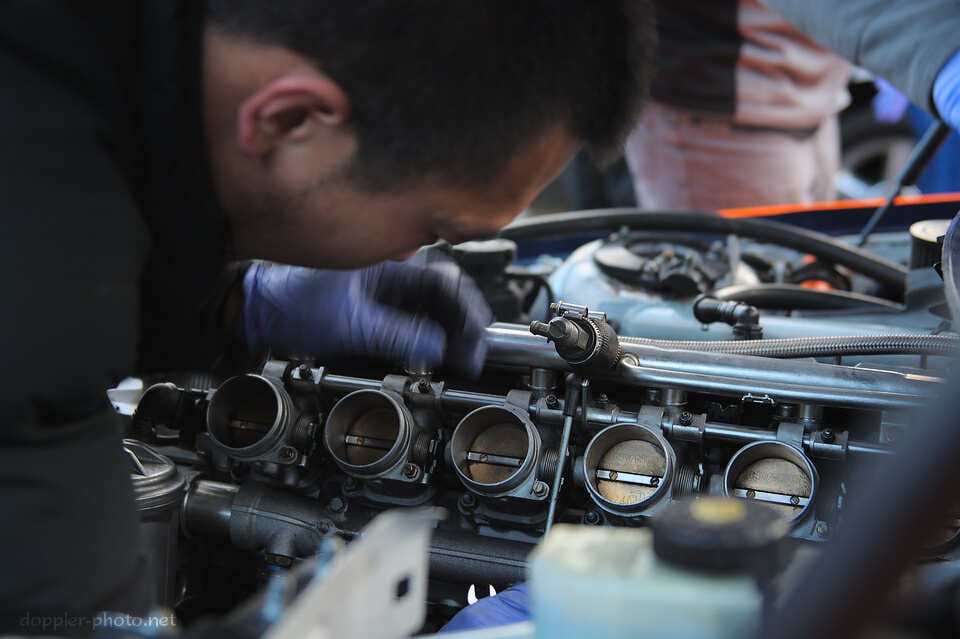 Bad turned to worse as the team rolled the car from the hot pits into the paddock.  Here, the mechanic investigates the throttle bodies (and you can see the fuel injector rail directly above the throttle bodies).  By this point, around four hours into the race, the #33 had completed 31 laps, 17 laps down from the nearest class competitor, and 85 laps down from the class leader.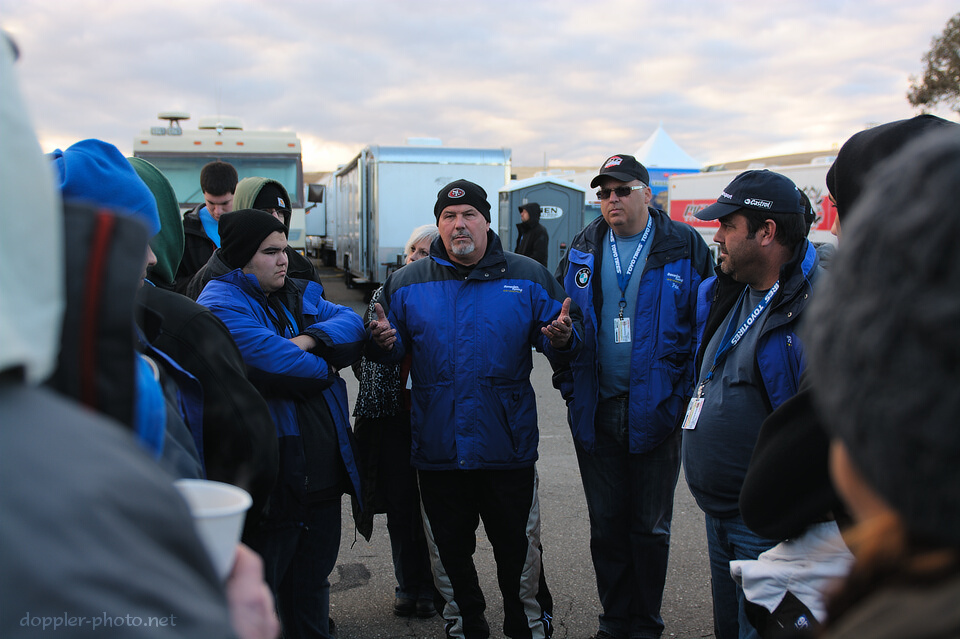 A few minutes later, the team had a meeting where the decision was made to retire from the race.  What struck me about the meeting was that as Maher (center) spoke, he emphasized that the even though this race didn't go their way, the team should remain thankful for the safety of the team members and the safety of the car.  In essence, "we'll live to race another day."

There was obviously a rational component to the decision (as there is in any retirement), but this struck me as a particularly heartfelt acknowledgement that sometimes luck isn't on your side, and sometimes there are downsides to just sticking it out for the finish.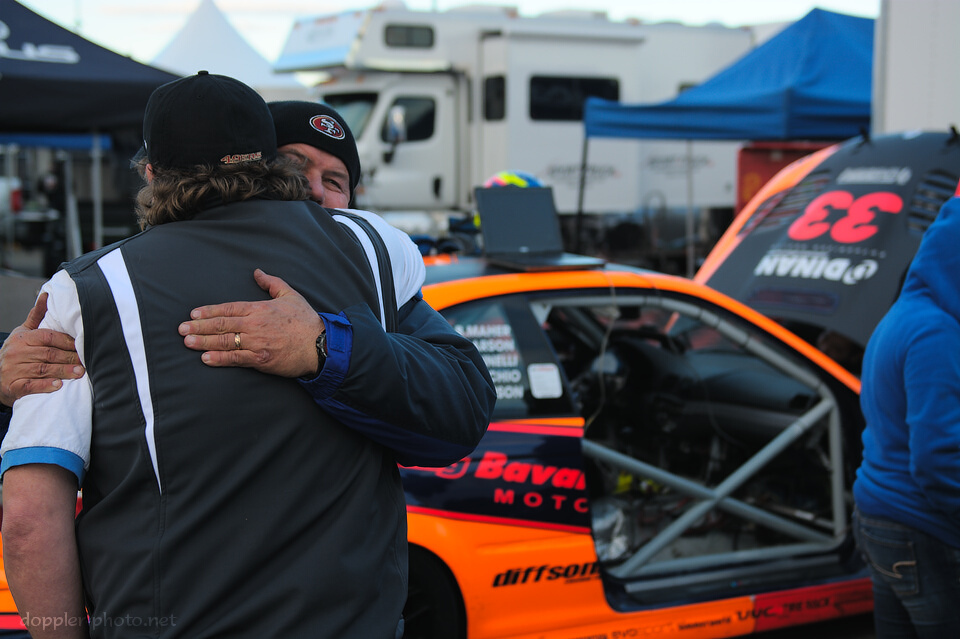 Maher hugs another team member as the group prepared to pack everything away after the meeting.
Until next year… Coming up tomorrow: The story of a rebirth from fire, with the stars-and-stripes #4 Prototype Development Group GTM.

If you like these blog posts, and would like to see more posts like it, please click here to support my work on Patreon.  Writing is a significant time commitment, and your support really makes a big difference for me. The full 25 Hours of Camaraderie sequence: