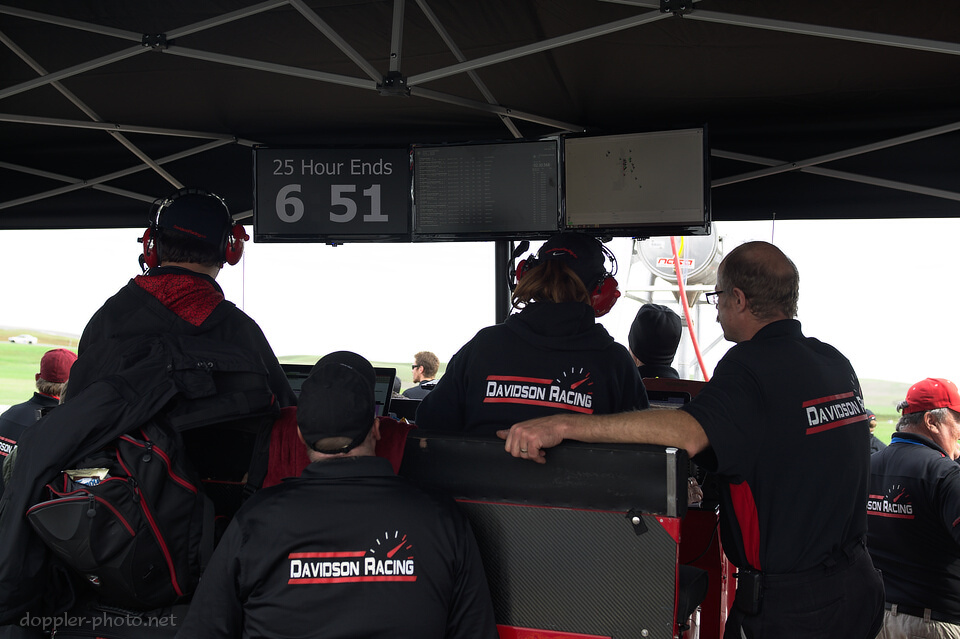 (Note: this post follows "Disaster" in the Rhythm of Racing series.)

I mentioned in "On-Track Prep" that the pre-race grid walk is a going-away party of sorts.  That for cast and crew, it's a mental transition period from focusing on anything else to focusing exclusively on the race.

The opposite transition begins in the moments before the finish — undivided focus transforms into some combination of relaxation, exhaustion, and a variety of other emotions…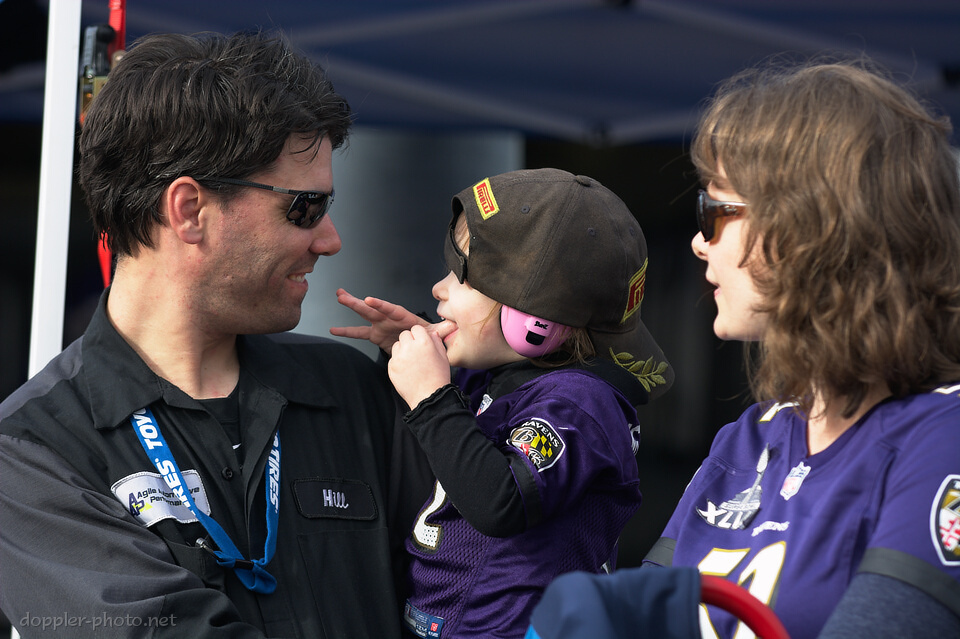 Mental and emotional distance give way to reunion.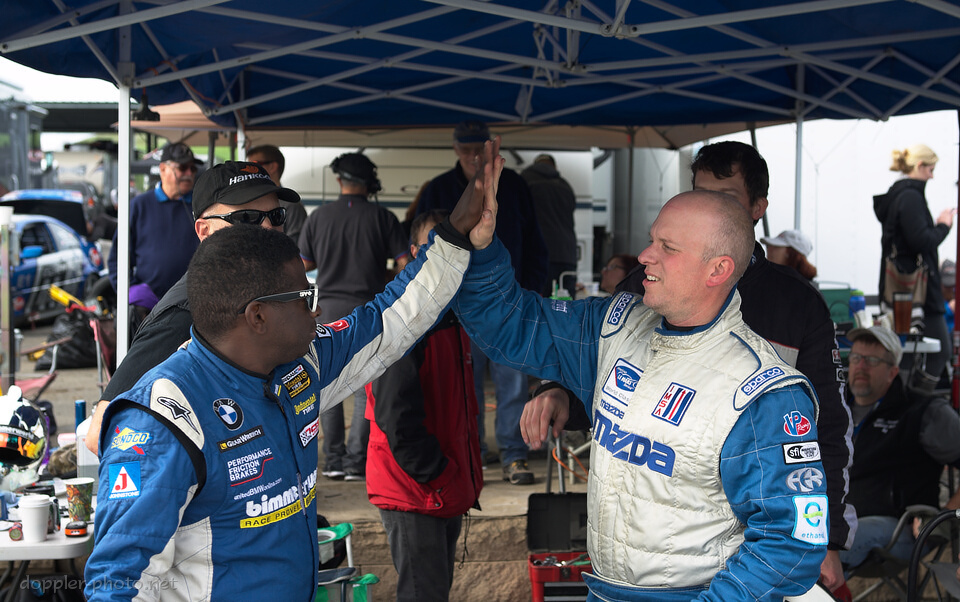 And as the race ticks ever closer to the checkered flag, the result crystallizes.  "We're doing it" gradually becomes "we did it!", and "we can do better" becomes "we did our best."

That sense of closure, even before the checker actually flies, tends to manifest as small, impromptu celebrations; particularly among teams that are doing well.  Here, driver Dale Sievwright (left) and a member of the pit crew share a high-five after the team's final pit stop.  Their car, the #31 Hankook Tires / El Diablo Motorsports M3, would finish first in class E0 and seventh overall in the final standings.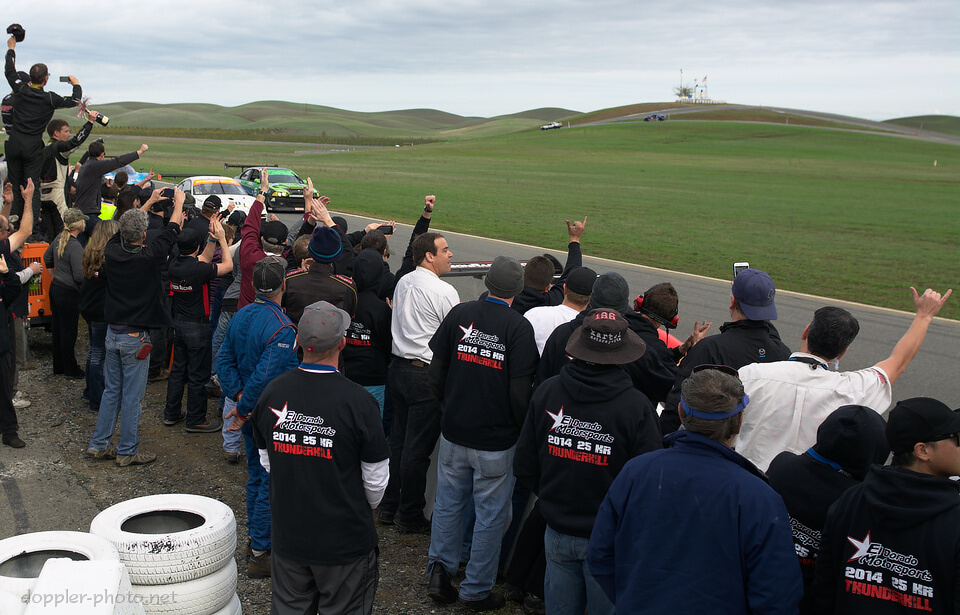 And then, the moment itself.  Here, team members and race staff cheer as owner Bob Davidson drives the race-winning #17 Davidson Racing Norma M20F (center, obscured) toward the checkered flag, at the head of a formation of other race cars.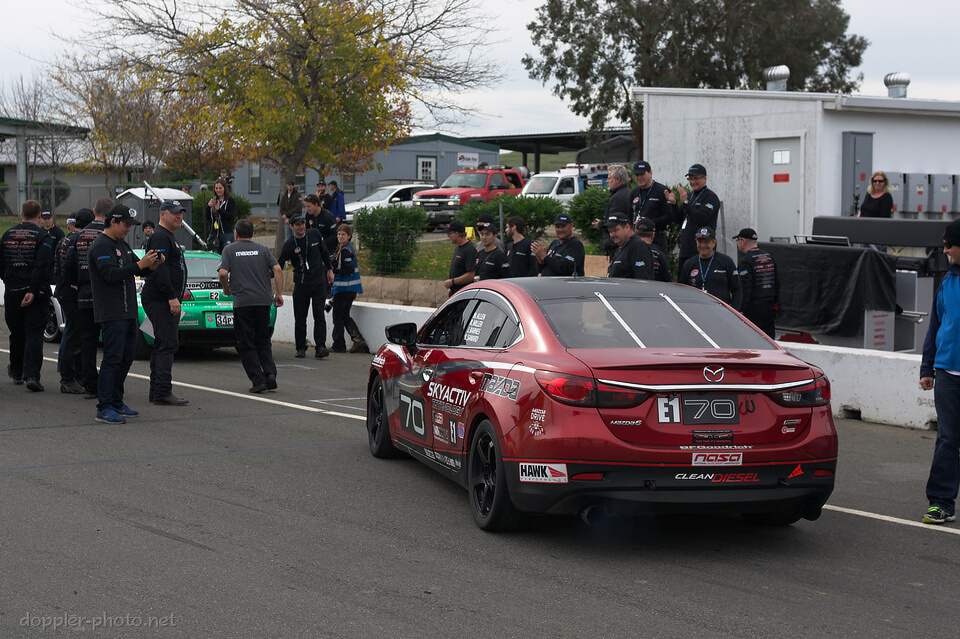 The teams welcome the #34 Team RDR Mazda RX-8 and the #70 Mazdaspeed Factory Guys Mazda 6 Diesel back to base.  The #34 placed first in the E2 class, and despite finishing over 100 laps down from the E1 class leader, the #70 was the only one of three sister cars to go the distance — the #55 crashed into a stopped vehicle after sunset (see "Disaster"), and the #56 went off-track and rolled later during the night.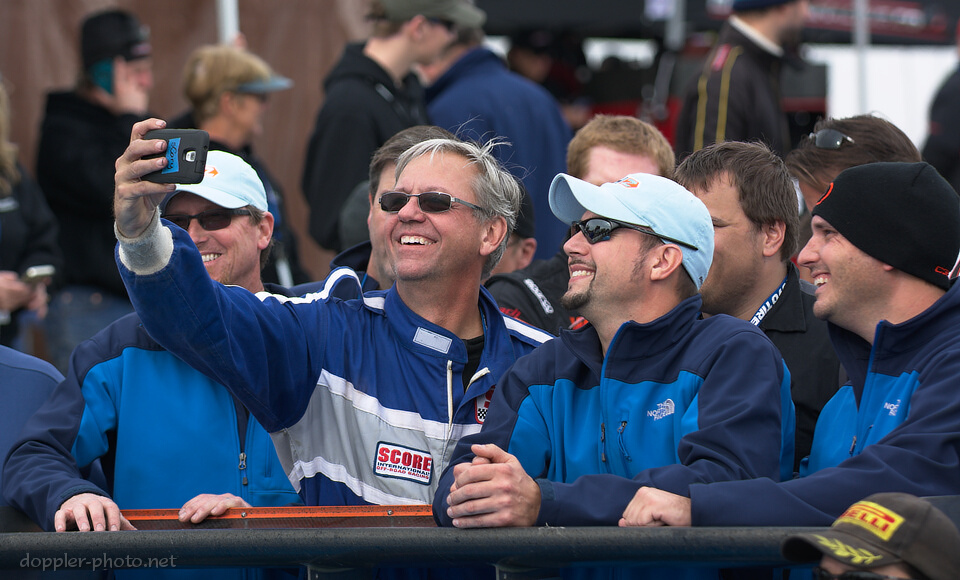 Members of Team Quick Racing Products take a group selfie behind their #03 Superlite SLC after a third-in-class (fourth overall) finish.  A far sight better than their DNF in 2013.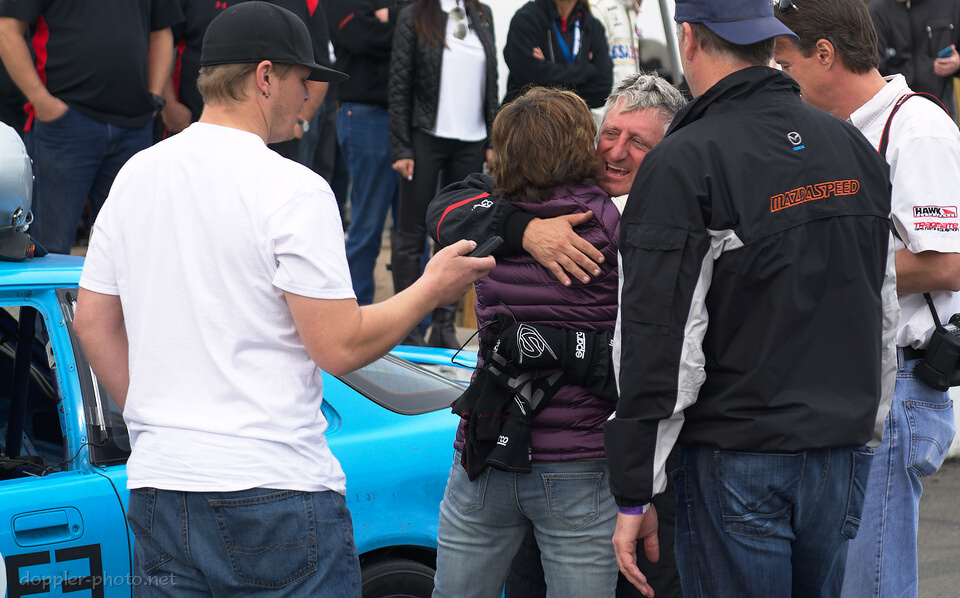 The closing driver for the #07 New York Rock Exchange / 1st Community Acura Integra celebrates after getting out of the car.  The team finished second in the E3 class, only 40 seconds back from first.
Before they depart company, a member of the NASA safety crew expresses his gratitude to people who helped during the race.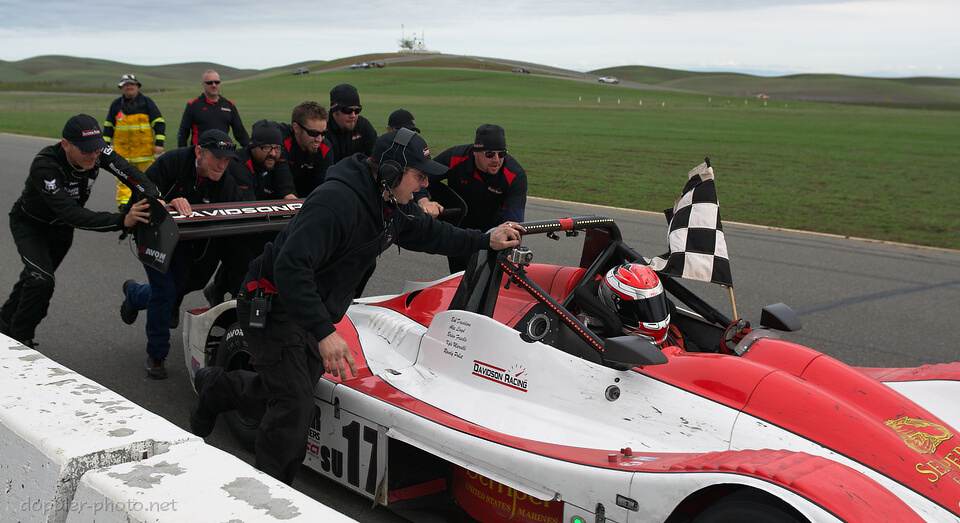 Annual car races have a certain kind of rhythm to them. A fundamental identity that defines them, even as they evolve over time.  From year to year, things always change — different conditions, different competitors, different tactics, and often, a new winner.  But every December that I make the trek to Thunderhill Raceway, I find a race that's familiar, even though it's always a little bit unique. The full Rhythm of Racing sequence: