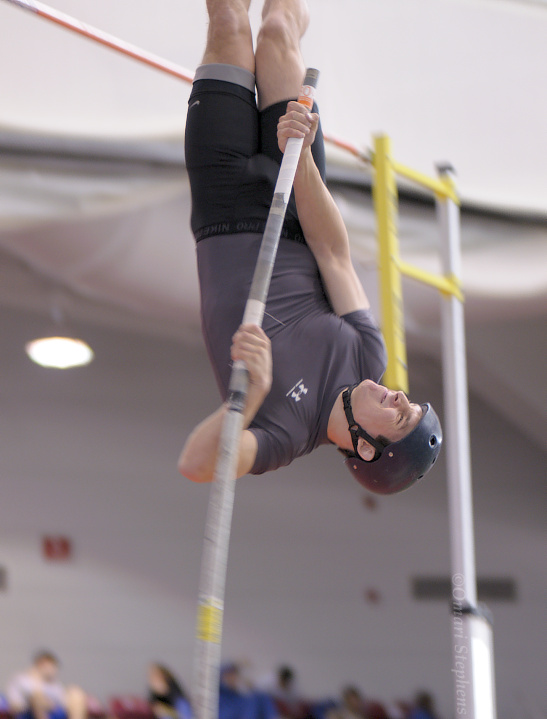 Sometimes, photographers like to gloat.  Or at least, I do.  This post is certainly about pole vaulters, but beyond that, it's also about why we're awesome.  It's not brimming with superlatives or anything, but I've done a lot of things that I'm proud of, and a lot of other vaulters have done things for which I'm proud of them.  I find joy in displaying that pride.

So with out further ado, let's talk about the photo above.  Of the O(100,000) photos I've taken, I think it's one of my favorites.  I mean, it makes me giddy every time I look at it, and I certainly haven't seen any other pole vault photo like it.

Part of what I'm so proud of is undoubtedly the years of practice that went into being able to take this.  Many people find it challenging to pan horizontally with a subject moving at a constant velocity, but I managed to smoothly track Old Man Ball as he followed a considerably more complex trajectory (think 1/x), and fired off this shot as the pole was unbending and accelerating him upward.

Given all that, there's a pretty cool juxtaposition between the blurry, moving pole and Ball's face, which is tack sharp.  At full resolution, you can see the texture of his helmet straps.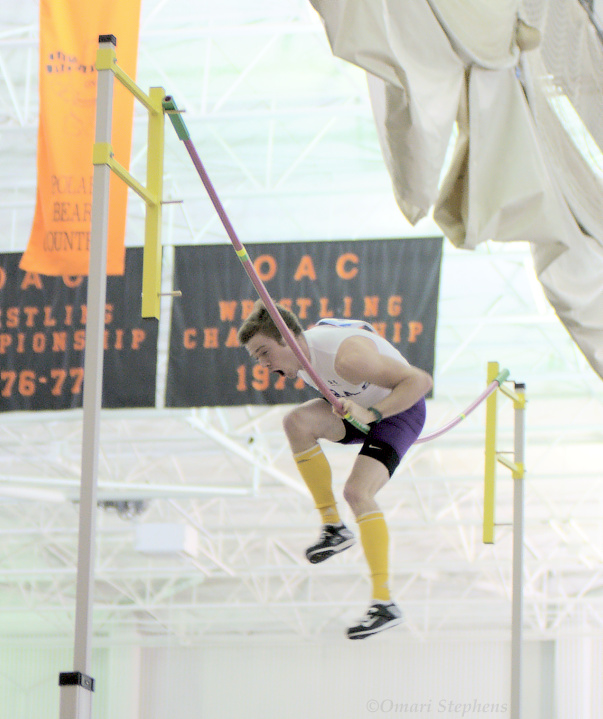 I competed at the Div-III National Championships twice in the pole vault, both my senior year at MIT, and both times placing eighth.  After I was out, I starting taking photos and got this awesome frame.  It's not every day that a guy racks himself on the bar while trying to jump close to 17 feet at the national championships, and it's times like those when photographic practice and skill can really pay off.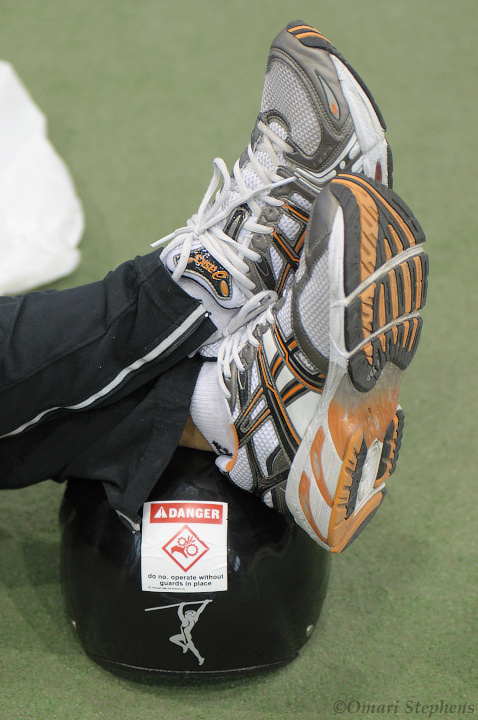 As noted, I'm extremely proud of my own accomplishments.  But I'm also proud of MIT's vault squad, and consider myself extremely fortunate to have been one of them (go blue team!).  One not-quite-pastime of mine is demonstrating that people's initial conceptions are often misguided.  And I think the vaulters at MIT exemplify a fun mish-mash of counterintuitive characteristics.

This is Sharpe (or, at least, it's his helmet.  And possibly his feet.  And it's pronounced "Sharpé", but possibly only if you're a vaulter.)  You may remember him from an earlier post.  He's a senior and one of the track captains this year, and holds the curious distinction of being the only MIT vaulter I know of who came in as a distance runner.  He and his brother Jacob also happen to be among the best Diabolo teams in the world.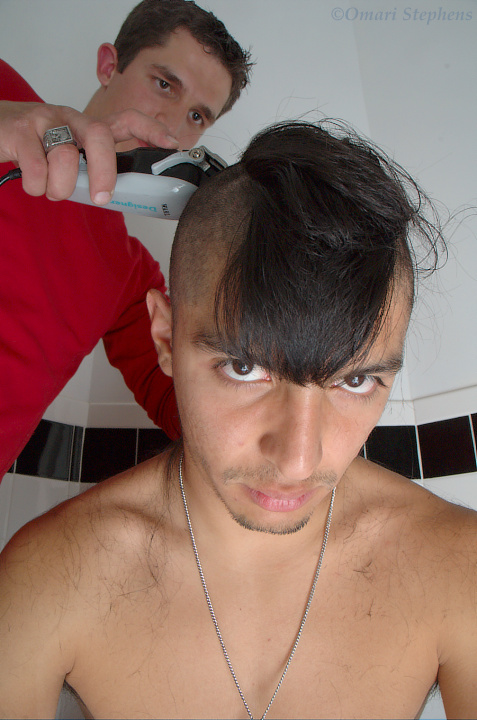 Vaulting at MIT is something of a tradition, and vaulters at MIT are a family.  Patrick and I graduated this past year.  Old Man Ballsky, in red, graduated in '05 (hence the name), after which he jumped for '06 indoor season as a Grad student, and coached us for the rest of '06, all of '07, and the majority of '08.  He's now the host of Design Squad, a kids engineering show in a similar style to the venerable Bill Nye the Science Guy.  He's also a co-founder of Atlas Devices, LLC, makers of the Atlas powered rope ascender (cue awesome 5-minute video).  Sweet.

Patrick graduated with degrees in Mech-E (course 2) and EECS (course 6), two of the courses with the most requirements.  In addition to finishing up where Ball left off at the end of '08, Patrick is the vault coach for '09, and is starting in the course 2 Ph.D. program.  Rock.

Anyway, at some point, Patrick suggested that we get mohawks for our outdoor championship meet season.  The guys figured that it was generally a good idea (the ladies not so much), and it's been a tradition ever since.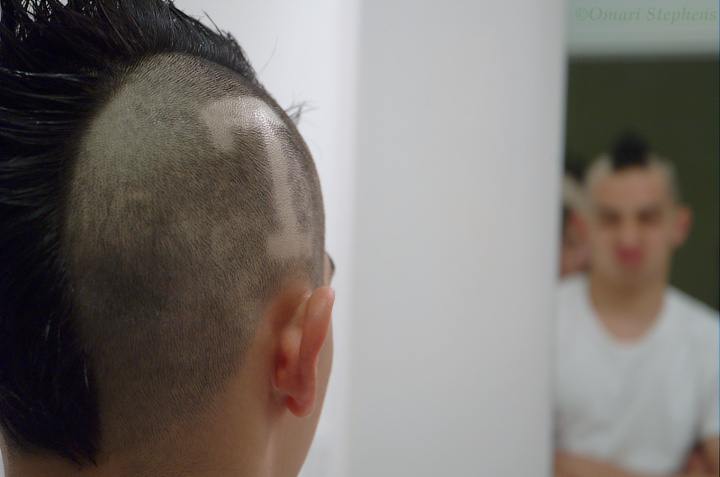 This is Tao.  Here, he's checking out his 'hawk after all was said and done.  In addition to the mohawks, we also got "T"s shaved into both sides of our heads.  I mean, you can't get a track 'hawk without letting people know where you're from.  Go Tech!

So, Tao is also course 2.  In addition to kicking butt on the track, this past year he beat the other course 2 sophomores and placed first in the Mech-E design and manufacturing competition, 2.007.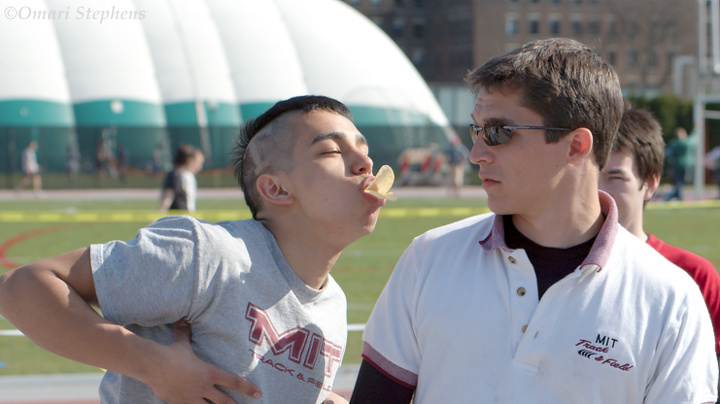 Tao is also a chicken.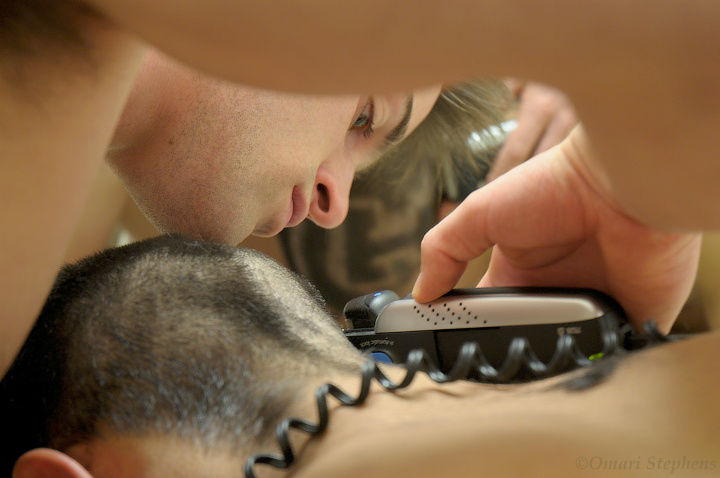 This is stage two of the haircut.  After a few weeks, the 'hawks go away, and we get just "T"s.  With a line.  One side is embossed, the other side is inset, and it looks sweet.

And it's totally worth it.  A week later, I woke up in a cold hotel room in New Hampshire, for the all-division, All-New England track meet.  I checked my computer before we headed out to the track and we were on MIT's homepage.  That feeling was incredible, and is mostly indescribable.  Later that day, I placed second in the region in the vault.

So yes, it's possible to work hard while having fun.  Yes, it's possible to be serious with a smile on your face.  Yes, it's possible to go to one of the best Tech schools in the world for four years, worrying about vault technique as much as classes, and then graduate with two degrees and as a two-time All-American.

As opera singer Ernestine Schumann-Heink once said,
"This shall be my parting word: Know what you want to do — then do it."