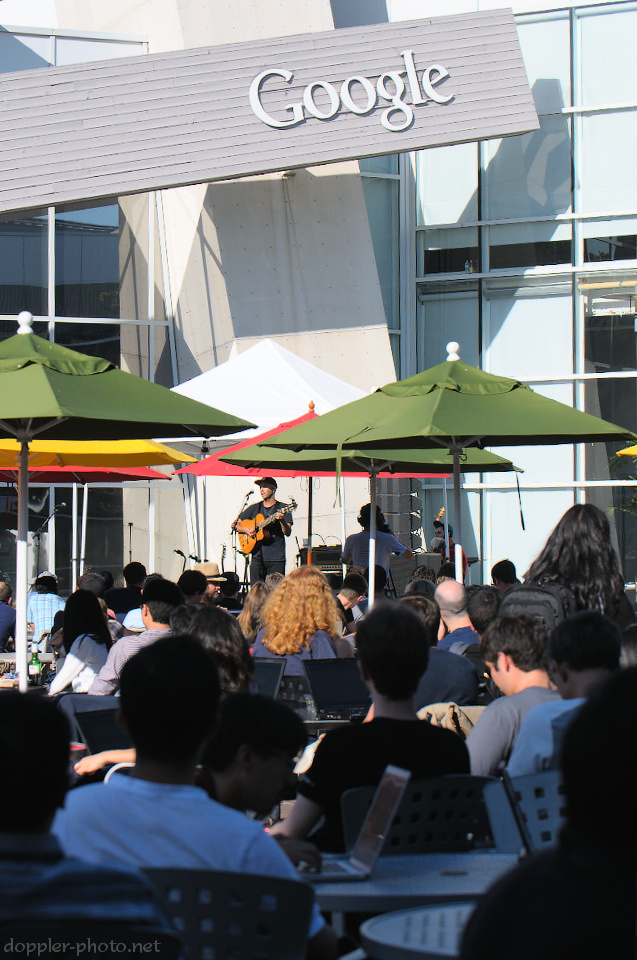 Last Thursday, Tom Morello as The Nightwatchman played a set for the Music Beta by Google concert series.  Morello is well-known for his role as guitarist for Rage Against the Machine, as well as for the since-disbanded group Audioslave.  During the performance, Morello shared the stage with backing guitarist Carl Restivo.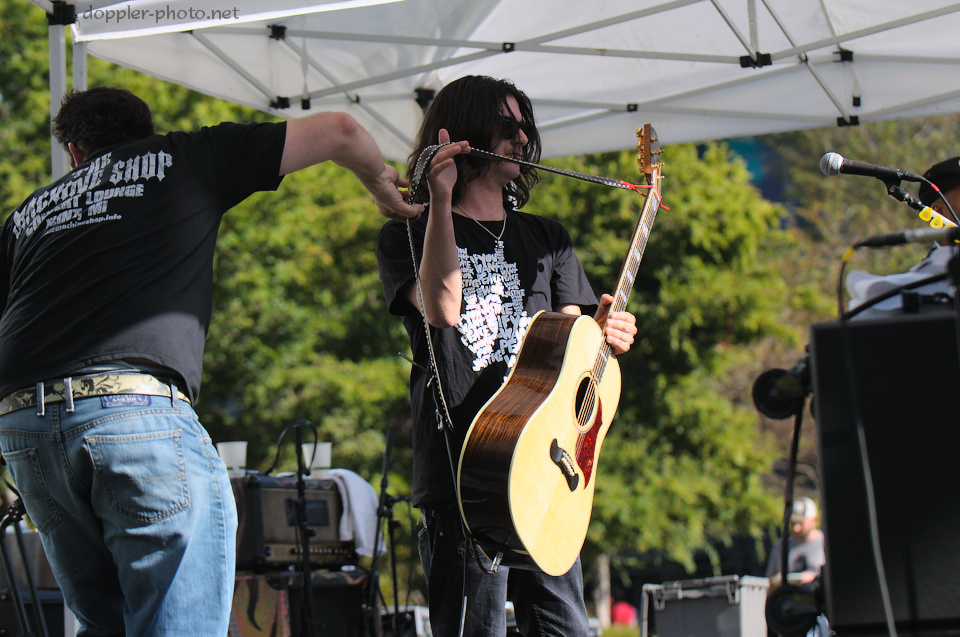 An assistant helps Restivo to switch guitars between songs.  The two played a variety of songs from The Nightwatchman's new album, "World Wide Rebel Songs," including one that Morello described as a "love song" to his new steel-stringed acoustic, "Black Spartacus."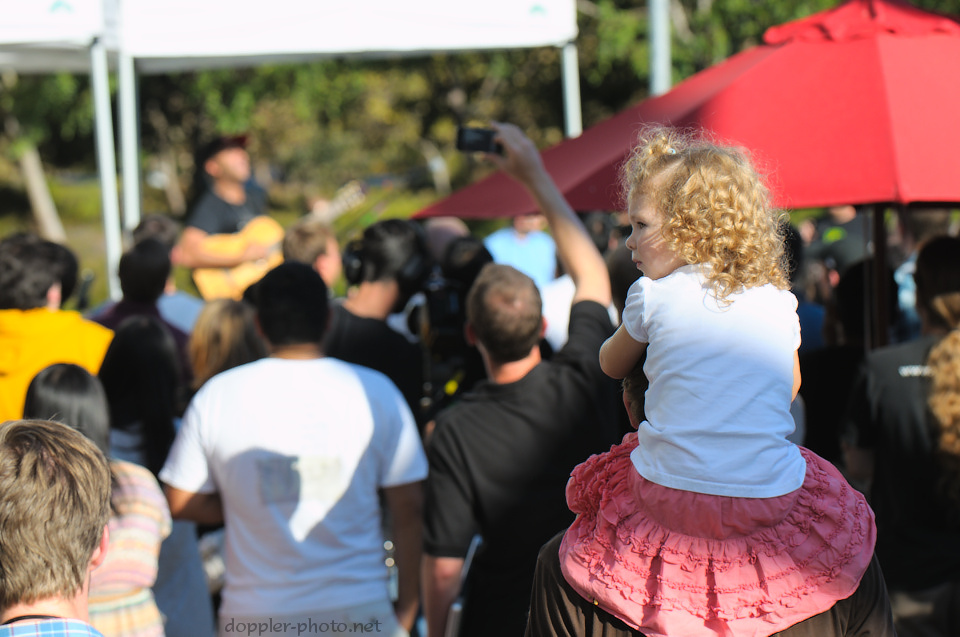 A girl sits on her father's shoulders as the two listen to The Nightwatchman play This Land Is Your Land, originally by folk musician Woody Guthrie.  In addition to the more-well-known lyrics of the song, Morello included a hidden verse from the original, which he introduced with a short list of instructions for the audience:
Listen and learn
Answer the question ("Is this land still made for you and me?")
Sing along
Jump the fuck up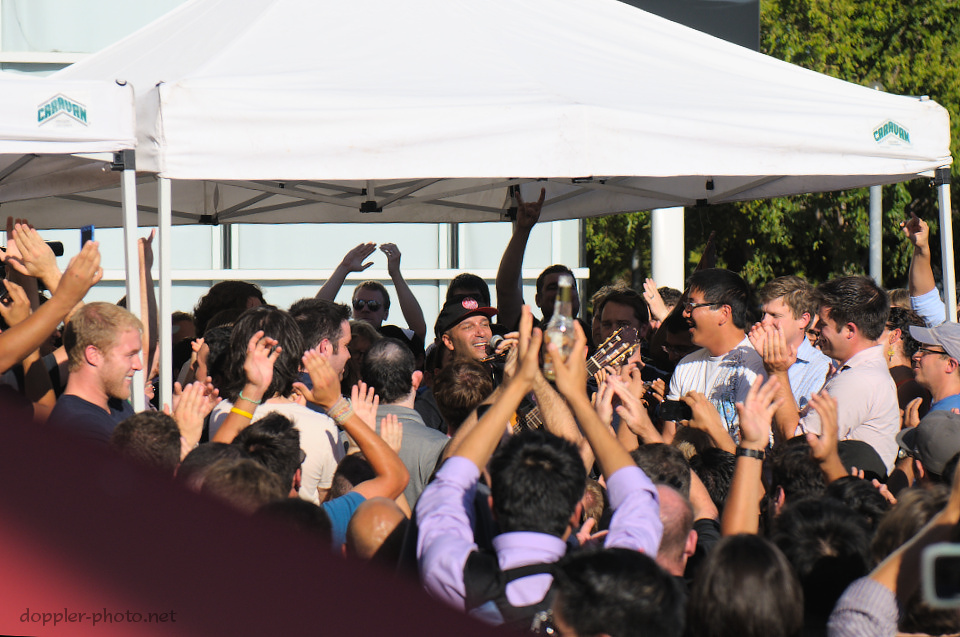 Afterward, Morello invited everyone in the audience onstage to help sing "World Wide Rebel Songs," which he had written to celebrate a selfless act by Korean guitar makers.  The guitar makers had been fired en masse after forming a union with the hope of improving their working conditions.  Morello played a benefit concert for the group, but the group decided to donate the funds toward relief efforts in Haiti after the major earthquake there in January, 2010.

Above, Morello smiles and the audience applauds after the song comes to an end.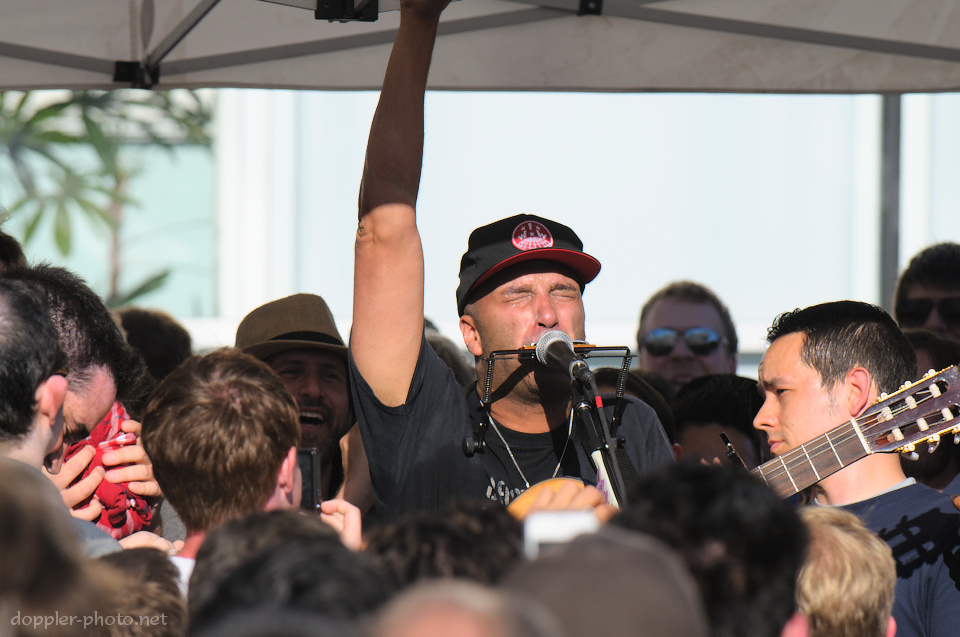 After the applause had subsided a bit, Morello asked if the audience wanted to sing it again, and the crowd shouted their assent.  Above, Morello strains as he plays the last few harmonica notes near the end of the concert.

Click on any of the images above to jump to the full set of photos.

Correction: the original version of this article incorrectly said that the concert concluded with three singings of "This Land Is Your Land."  It actually concluded with "This Land Is Your Land," followed by two singings of "World Wide Rebel Songs."