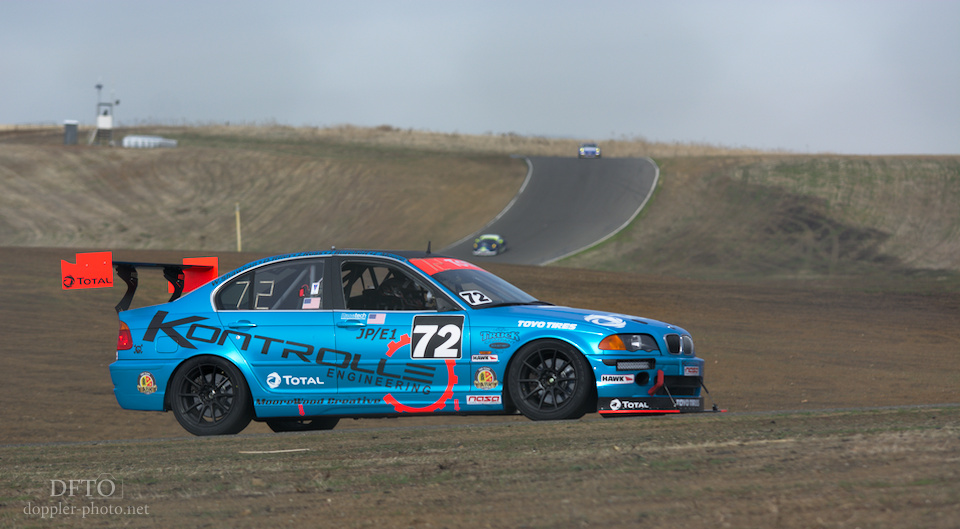 There are so many ways to wait.  And even when you're going hard, sometimes you're also waiting — for an opportunity… for a break… for something to go wrong…

There are so many ways to wait.  They're each a little different, and in 25 hours of racing, you're liable to experience more than a few.  That's just how endurance races go.  Plus, aside from the times when you're in the driver's seat, an endurance race is a lot like a relay race: when you've got the baton, you can make things happen.  But when you don't, you still have to wait for it to come back around.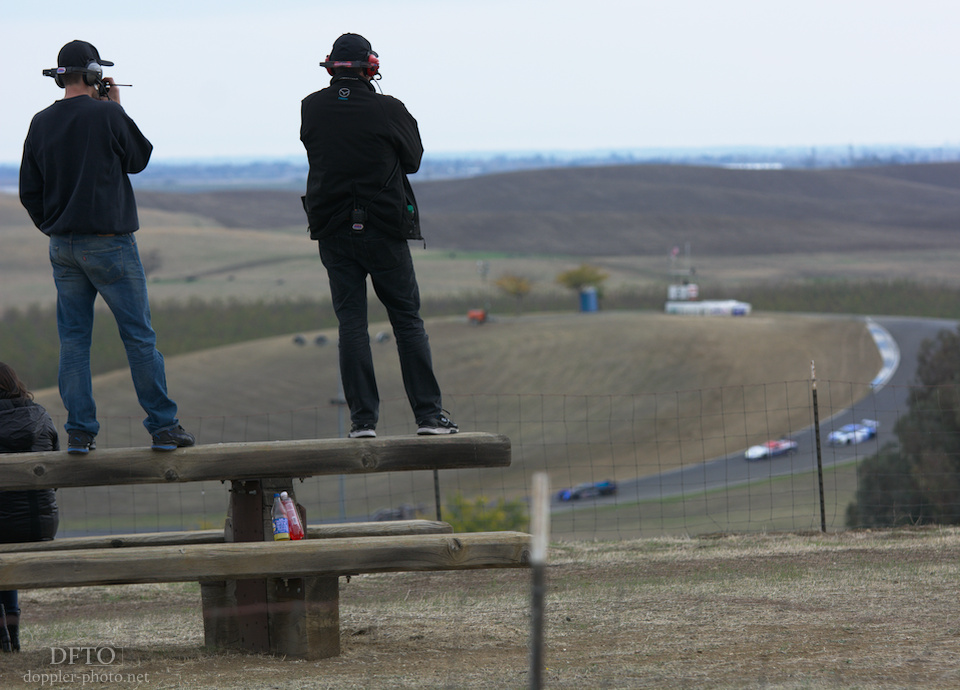 For some people, waiting can be a job.  Spotters generally find a high vantage point, get comfy, and keep the team apprised of track conditions.  They can get pretty busy depending on how many cars they need to watch, whether any of them are near pit stops, whether there are any on-track incidents, etc.  But when the tower rolls out a full-course yellow, there's not much to do but wait for the pace car's lights to go out (which indicates that the pace car will leave the track soon).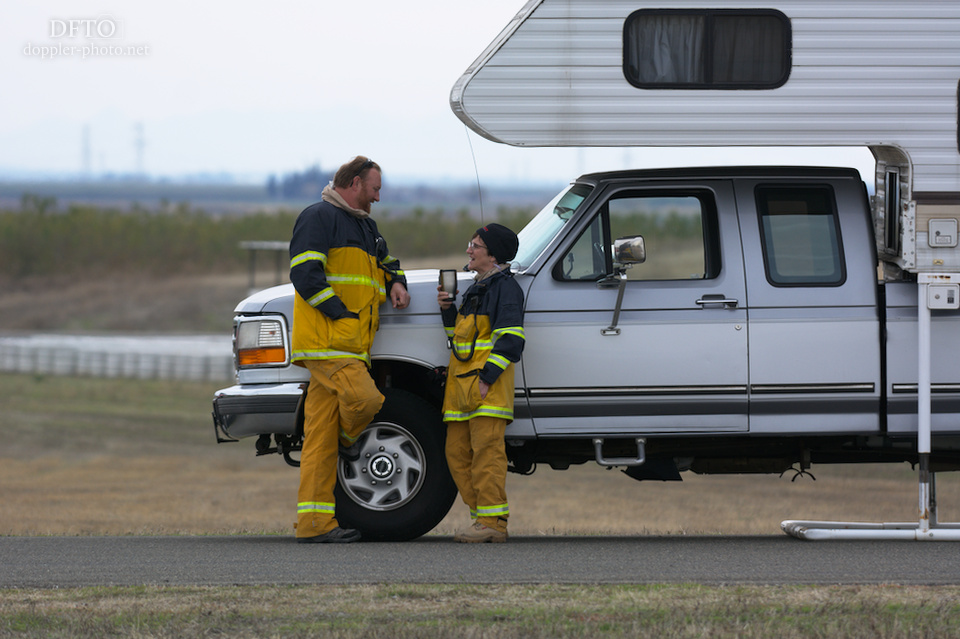 Sometimes, the waiting is between jobs.  As long-time veterans of the Safety crew, Jarett (left) and Monica have both seen plenty of races that were predominantly work with scarce amounts of sleep.  During races that are a bit more tame, the Safety crew will hang out, chat, and rest while waiting for the next call.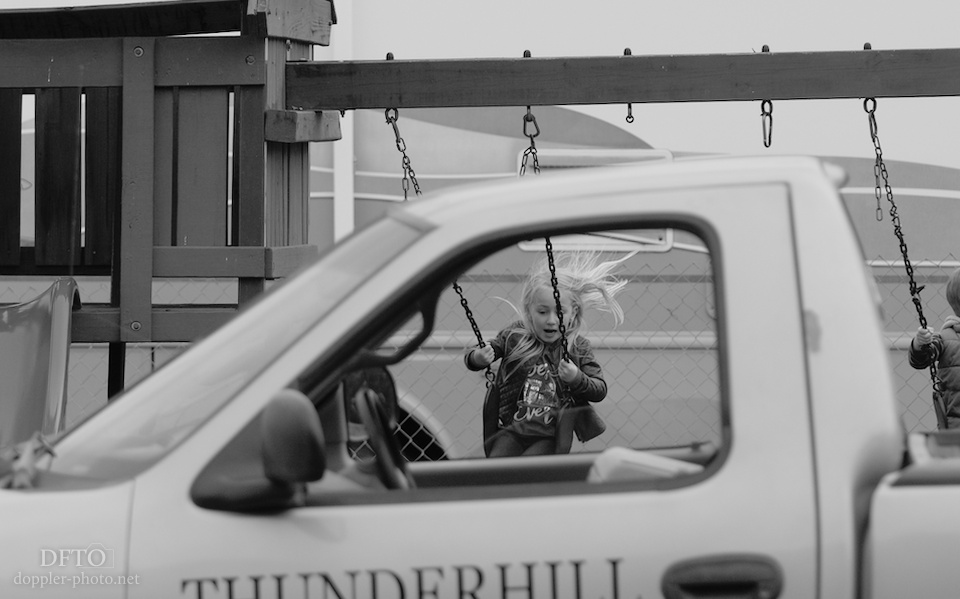 Of course, sometimes the waiting is the whole point!  On their way back to Chico, CA from the USC-Stanford championship football game (at Levi's Stadium in Santa Clara, CA), this girl's family stopped by Thunderhill to catch a little bit of the action.  As evening approached and temperatures started dropping, the younger members of the family spent some time on the track's swingset before the family departed to finish their trip back home.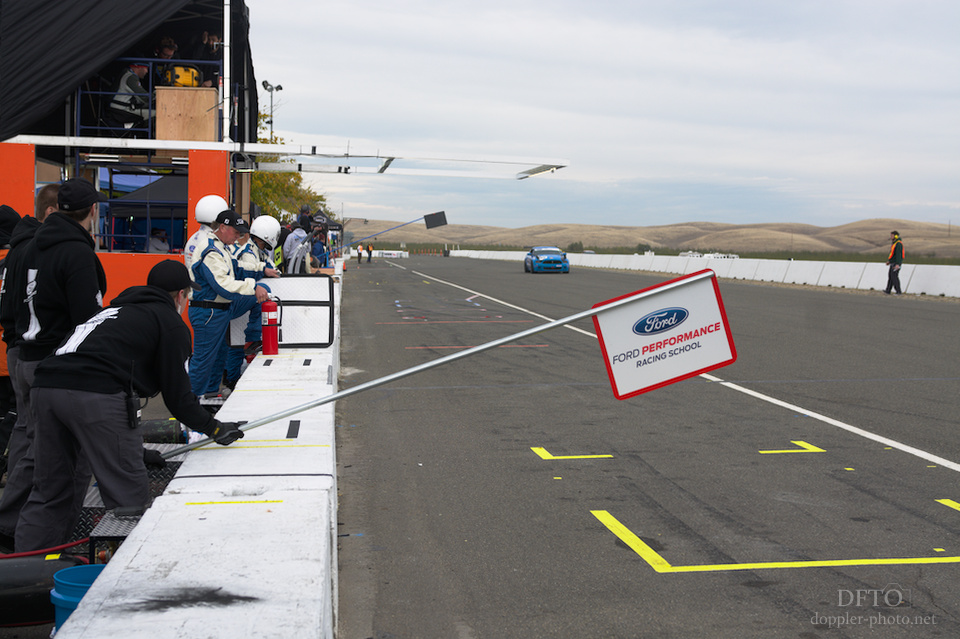 On the other hand, even intense situations can involve a surprising amount of waiting.  Pit stops require lots of careful sequencing, and waiting is the essence of sequencing.  A combination of focus and patience is the name of the game — the focus makes you faster, and the patience keeps you from having to serve a penalty.

First off, as the car approaches for a pit stop, you wait for it to actually stop before you jump over the pit wall.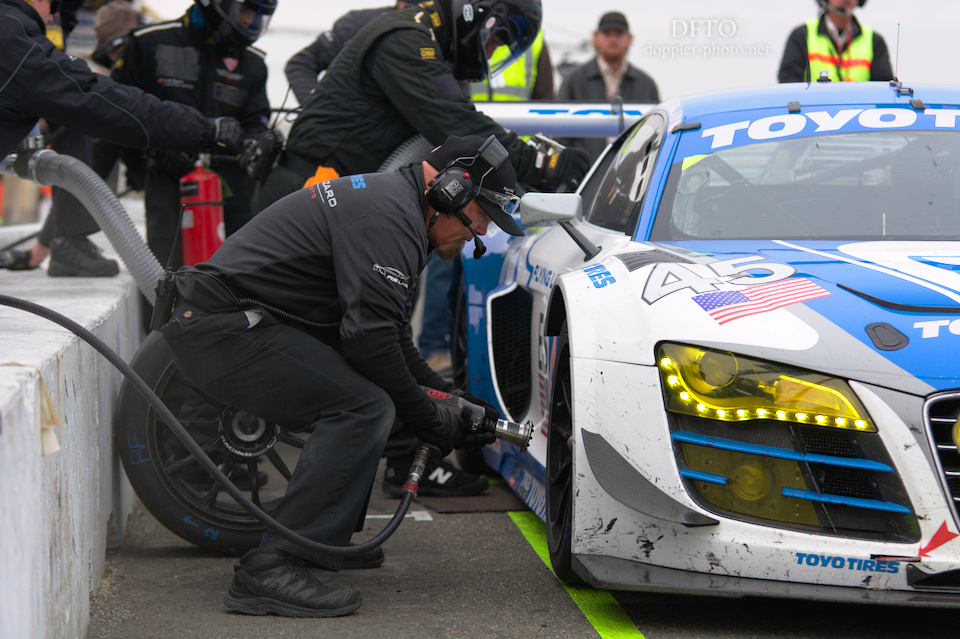 Then you wait for fueling to finish before you can get to work with the wheelgun.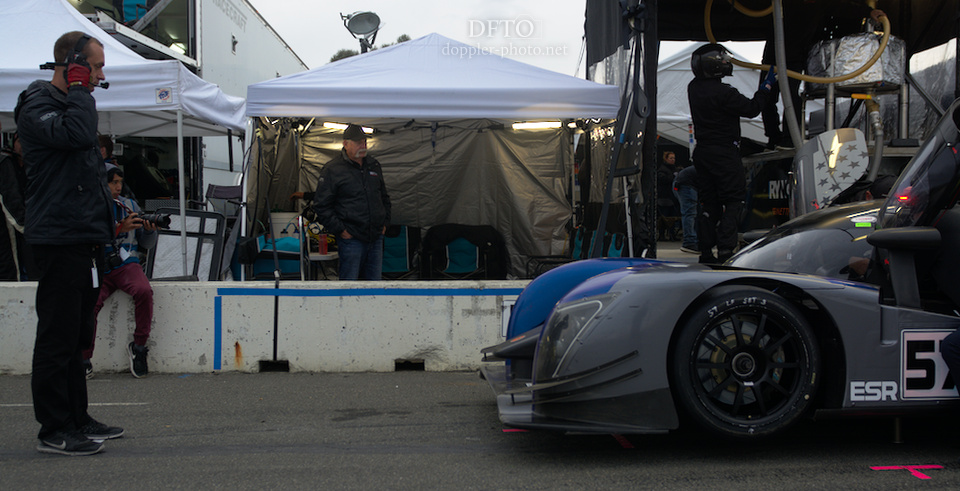 And as the whole dance progresses, the crew chief watches and waits to signal the car back out of the pit box.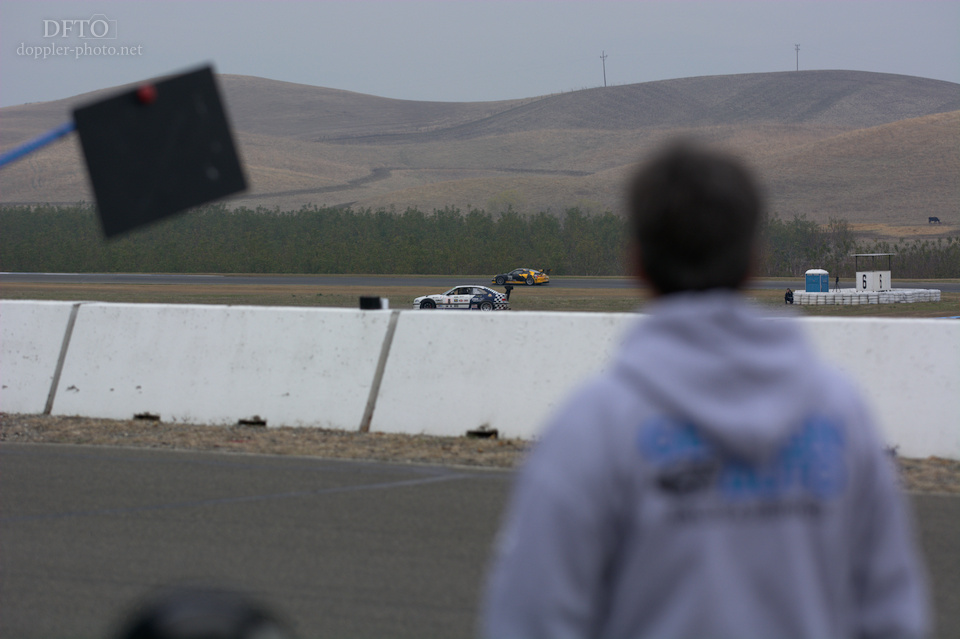 Other waits are less "focus," and more "anxious."  Such as when it's clear that your car's gonna need to wait for a tow, and you won't be able to figure out why until it gets back.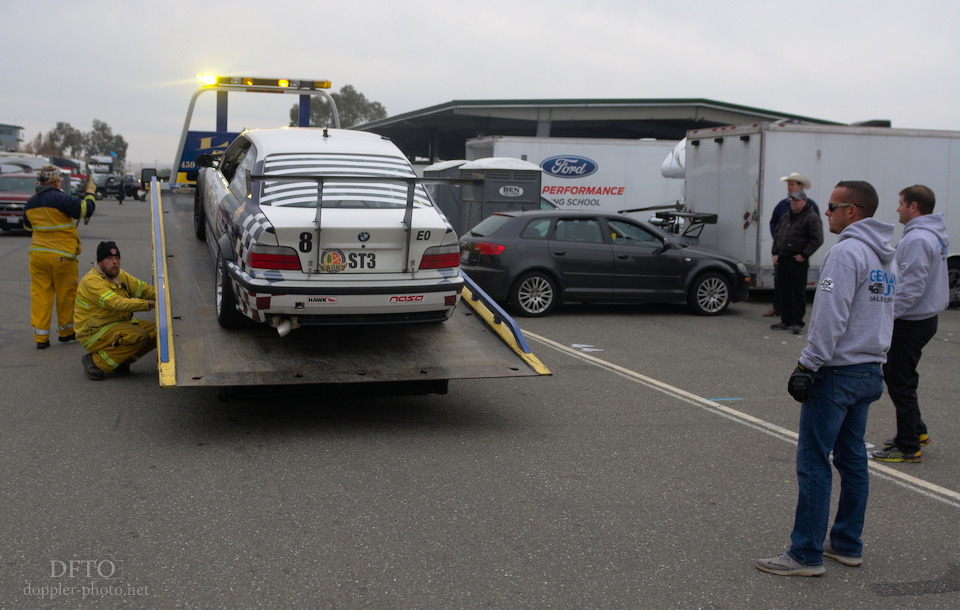 And even once it's 10 feet from your paddock spot, you still have to wait for it to roll back off the flatbed before you can open the hood and figure out how much of a problem you've got to deal with before you can get back on track.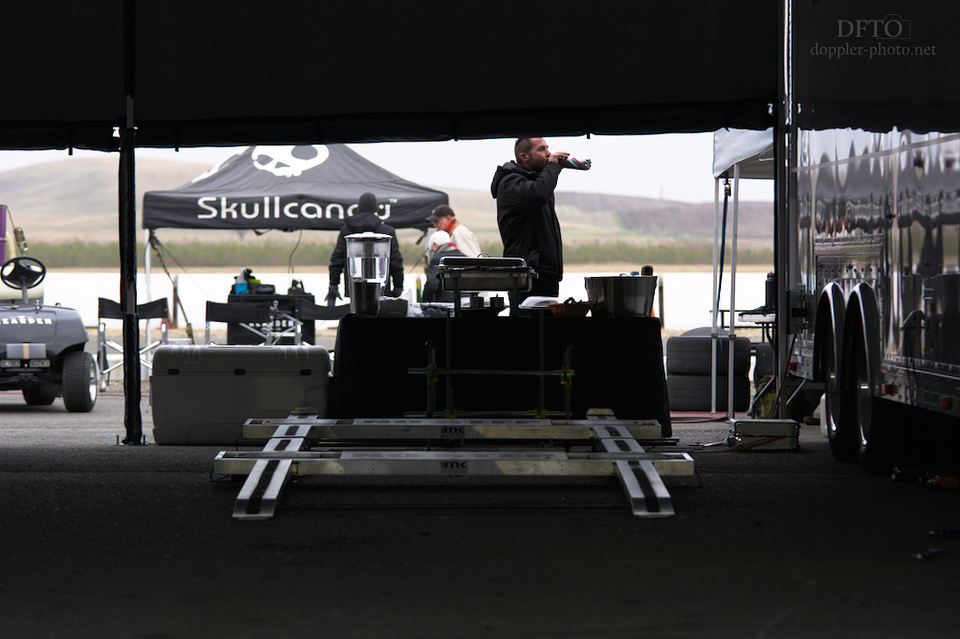 At last.  Of course, once the car is back out on track, after any pit stops or mechanical misadventures, the waiting starts anew… The complete Moments In Between series:
The Waiting Game